Látod, és hallod a zenét.
See and hear the music!

A látható, és mozgó kottaképek, a hallható zeneművek alapján vannak megírva.
COMPACT lejátszón is működtethető.
A folk songok eredeti angol szöveggel vannak megírva, melyek a hangjegyek alatt szinkronban olvashatók. Az angol nyelvet tanulók kiválóan alkalmazhatják az angol nyelv szó elválasztási szabályok gyakorlásánál. A hallható zene, szintén segíthet az éneklésnél, mint háttérkíséret.

A CD lemezen, ízelítő található a "zeneelméleti alapok" című könyvemből, melynek teljes anyagát tartalmazza, multimédiás feldolgozásban, a külön is megjelent a "Zeneelméleti alapok" című CD lemez kiadvány.
A lemezeken képekkel párosított életrajzi adatok is találhatók a művek szerzőiről.
A játékos időtöltéshez végül a "keresd a párját" nevű mappában lévő .exe fájl elindítása után megnyíló játék nyújthat kellemes, játékos szórakozást.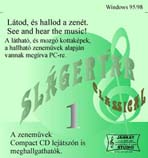 Forgalmazásra került, és megrendelhető az alábbiakban bemutatásra kerülő zenei klasszikusokat tartalmazó
SLÁGERTÁR
CD disk sorozat./stereo/
A sorozat első sorban, oktatási céllal készült.
A zeneművek és partitúrák az első ismétlésig lettek megírva, hogy minél több mű kerüljön fel egy-egy lemezre, mivel így kettős: PC, és Compact disk fájl formátumban, de egy disk lemezen találhatók a művek
eladási ár: 2500 Ft, 5% ÁFA tartalom.
1 CD

02 Alphabet Song. / Children Song / 1,20 minute
03 Beethoven / Turkish March. / 0,59 minute
04 Brahms / Waltz#2 in E Op 39. / 1,11 minute
05 Chopin / Valse Brilliante Op34 No2. / 0,46 minute
06 Dvorak / Humoreske Op 101 no 7. / 1,50 minute
07 Farewell Nancy. / English Song / 2,22 minute
08 Grieg / Dance Of Anitra Op 46 no3. / 0,45 minute
09 Handel / Menuet in F Watermusic. / 1,07 minute
10 J Strauss / Light Character polka. / 1,09 minute
11 JS Bach / Brandenburg Concerto #1 in F 2nd mvt. / 2,11 minute
12 Lehár / Merry Widow Waltz. / 1,21 minute
13 Let Erin Remember the Days of Old. / Irish Song / 2,05 minute
14 Mendelssohn / Venetian Boat Song#1 Op 19 #6. / 1,54 minute
15 Mozart / Allegro in F pno sonata 1 3rd movement. / 2,13 minute
16 Paganini / Adagio in Bm (Op 6 2nd mvt). / 0,58 minute
17 Scott Joplin / Heliotrope Bouquet. / 1,39 minute
18 Schubert / Valse Sentimentale#2 in A D 779 13. / 1,06 minute
19 Schumann / Traumerei Op 15 no 7. / 1,28 minute
20 Skye Boat Song. / Scotsh Song / 1,42 minute
Keresd a párját / Kirakójáték

2 CD

02 Alouette / Children Song / 1,34 minute
03 Amazing Grace / Scotsh Song / 3,25 minute
04 Arise Arise / English Song / 3,28 minute
05 As Slow Our Ship / Irish Song / 2,29 minute
06 Beethoven / Menuetto Symphony #1 3rd mvt / 1,07 minute
07 Chopin / Berceuse op57 / 1,34 minute
08 Dvorak / Slavonic Dance #1 in C / 1,19 minute
09 Grieg / Album Leaf / 0,46 minute
10 Handel / Air in F Watermusic / 0,56 minute
11 J Strauss / A Thousand and One Nights Waltz Op 346 / 1,02 minute
12 JS Bach / Jesu Joy of Mans Desiring Cantata 147 / 3,04 minute
13 Mendelssohn / Song Without Words Tarantella Op 102 #3 / 0,59min
14 Mozart / Adagio in Fm pno sonata2 2nd mvmt / 2,01 minute
15 Scott Joplin / Maple Leaf Rag / 1,05 minute
16 Schubert / Symphony#3 in D 3rd mvt / 1,00 minute
Keresd a párját / Kirakójáték

3 CD

02 Schubert / Symphony#3 in D D200 2nd mvt / 1,31 minute
03 Scott Joplin / Rag Time Dance / 1,28 minute
04 Paganini / Concerto in D Op 6 1st mvt / 0,42 minute
05 Mozart / Adagio in G 2nd movement Sonata 3 K545 / 1,39 minute
06 Auld Lang Syne / Scotsh Song / 4,13 minute
07 Bedlam / English Song / 1,37 minute
08 Beethoven / Minuetto in Eb / 1,09 minute
09 Believe Me If All Those Endearing Young Charms / Irish Song / 2,33 minute
10 Bicycle Built For Two / Children Song / 1,34 minute
11 Brahms / Symphony#1 in Cm Op 68 1st mvt / 2,13 minute
12 Chopin / Etude op25 no9 / 0,57 minute
13 Dvorak / Slavonic Dance #2 in A / 1,00 minute
14 J Strauss / Artists Life Waltz / 1,12 minute
15 JS Bach / Air on the G String / 3,27 minute
16 Mendelssohn / Spring Song Op 62 #6 / 0,50 minute
Keresd a párját / Kirakójáték

4 CD

02 Beethoven / Rondo in G / 0,48 minute
03 Billy Boy / Irish Version / 1,36 minute
04 Blackbirds and Thrushes / English Song / 1,21 minute
05 Brahms / Symphony#1 Op 68 2nd mvt Andante / 1,32 minute
06 Buttercups and Daisies / Children Song / 2,05 minute
07 Chopin / Etude in Cm Revolutionary Etude Op 10 no12 / 2,05 min
08 Chopin / Nocturne in Fm Op55 No1 / 3,24 minute
09 Dvorak / Slavonic Dance #2 in Em / 0,46 minute
10 Handel / Bourree in F Watermusic / 0,25 minute
11 J Strauss / Cagliostro Waltz #1 / 1,13 minute
12 JS Bach / Brandenburg Concerto #1 in F Minuetto / 1,30 minute
13 Mendelssohn / Symphony #1 in Cm Op 11 2nd mvt / 1,32 minute
14 Mozart / Allegro Finale in Eb Sym #39 K543 4th mvt / 0,46 minute
15 Paganini / Rondo in D Op 6 3rd mvt / 0,35 minute
16 S Joplin / SunFlower Slow Drag / 1,32 minute
17 Schubert / Symphony#4 Tragic in Cm D417 / 2,26 minute
18 Vivaldi / The Four Seasons Spring 1st mvt / 0,36 minute
Keresd a párját / Kirakójáték

5 CD

02 Beethoven / Scene By The Brook Symphony6 2nd mvt / 1,28 min
03 Blow Away The Morning Dew / English Song / 2,27 minute
04 Brahms / Hungarian Dance#5 / 1,11 minute
05 Brahms / Symphony#1 Op 68 3rd mvt Allegretto / 0,56 minute
06 Chopin / Fantaisie Impromptu in Db / 2,20 minute
07 Chopin / Nocturne in Gm Op 15 No 3 / 0,59 minute
08 Dvorak / Slavonic Dance #3 in Ab / 0,37 minute
09 Handel / La Paix Fireworks Music / 1,34 minute
10 Hot Cross Buns / Children Song / 1,20 minute
11 I Wish I Had The Shepherd's Lamb / Irish Song / 1,05 minute
12 J Strauss / Danube Mermaid Waltz Op 427 / 1,20 minute
13 JS Bach / Brandenburg Concerto #2 1st mvt Allegro / 0,43 minute
14 Mendelssohn / Symphony#1 in Cm Op 11 1st mvt / 0,48 minute
15 Mozart / Allegro in F pno sonata 1 3rd movement / 2,11 minute
16 S Joplin / Swipesy / 1,28 minute
17 Schubert / Symphony#5 in Bb D485 1st mvt / 1,25 minute
18 Vivaldi / The Four Seasons Spring 3rd mvt / 0,41 minute
Keresd a párját / Kirakójáték

6 CD

Beethoven / Fur Elise./ 1,50 minute
Beethoven / Sonata in G Op49 no2./ 1,33 minute
Beethoven / Symphony no 7 in A 1st mvmt. / 0,35 minute
Brahms / Symphony#1 Op 68 4th mvt. / 1,03 minute
Bruton Town. / 4,01 minute
Chopin / Fantaisie Impromtu 4 Op66. / 1,02 minute
Chopin / Polonaise Op26 No1. / 1,16 minute
Dvorak / Slavonic Dance #4 in F. / 1,27 minute
Handel / Bourree in Dm Fireworks Music. / 0,51 minute
Handel / La Rejouissance Fireworks Music. / 0,52 minute
J Strauss / Emperor Waltz Op 437. / 1,20 minute
JS Bach / Brandenburg Concerto#2 in F 2nd mvt Andante./ 1,16 minute
Mendelsshon / Symphony#1 in Cm Op 11 3rd mvt. / 0,27 minute
Mozart / Andante in Bb K533 2nd mvmt. / 2,22 minute
S Joplin / The Cascades. 0,58 minute
Schubert / Symphony#6 in C D589 2nd mvt. / 1,15 minute
Vivaldi / The Four Seasons Summer 4th mvt. / 0,28 minute
R Wagner / Tannhauser March. / 1,10 minute

7 CD

Beethoven / Sonata in Gm Op49 no1. / 0,43 minute
Beethoven / Symphony#4 in Bb Op6 1st mvt. / 0,58 minute
Brahms / Symphony#2 in D Op 73 1st mvt. / 0,59 minute
Chopin / Funeral March Op35. / 2,43 minute
Chopin / Mazurka in G minor Op67 no2. / 0,43 minute
Chopin / Nocturne in B Op32 No1. / 2,45 minute
Chopin / Polonaise in A Op40 No1. / 0,59 minute
Dabbling In The Dew. / 2,48 minute
Dvorak / Slavonic Dance #6 in D. / 0,53 minute
Handel / Largo in G from the Opera Xerxes. / 3,12 minute
J Strauss / Enjoy Life Waltz. / 1,15 minute
JS Bach / Goldberg Variation #1 Allegro moderato. / 1,02 minute
Mozart / Andante in C sonata 5 3rd mvmt K 1894. / 1,04 minute
S Joplin / The Chrysanthemum. / 1,39 minute
Schubert / Symphony#6 in C D589 3rd mvt. / 0,37 minute
Vivaldi / The Four Seasons Winter 1st mvt. / 1,32 minute

8 CD

Beethoven / Sonata Op31 No3. / 2,10 minute
Brahms / Symphony#2 Op 73 2nd mvt. / 1,43 minute
Chopin / Grande Valse Brilliante Op 18. / 0,59 minute
Chopin / Nocturne in Eb Major Op 9 No2. / 2,16 minute
Chopin / Nocturne Op37 No1. / 2,36 minute
Chopin / Polonaise In Ab Op53. / 1,08 minute
Death and the Lady. / 2,52 minute
Handel / Menuet 1 Fireworks Music. / 0,49 minute
J Strauss / Kiss Waltz. / 1,40 minute
JS Bach / Goldberg Variation #3 Andante. / 1,48 minute
Mozart / Eine Kleine Nachtmusik K525 1st mvt. / 1,39 minute
S Joplin / The Easy Winners. / 1,29 minute
Schubert / Symphony#6 in C D589 4th mvt. / 0,56 minute
Vivaldi / The Four Seasons Winter 2nd mvt. / 2,01 minute

9 CD

Beethoven / Symphony #7 mvt 2. / 1,34 minute
Brahms / Symphony#2 Op 73 3rd mvt. / 0,50 minute
Chopin / Mazurka in Ab Op 24 no3. / 1,23 minute
Chopin / Nocturne in F# Op15 No2. / 1,50 minute
Chopin / Nocturne Op 27 no2. / 2,13 minute
Chopin / Prelude in A Op28 No7. / 0,45 minute
Chopin / Waltz in Bm Op69 No2. / 1,12 minute
False Lamkin. / 1,44 minute
Handel / Menuet 2 Fireworks Music. / 0,49 minute
J Strauss / The Blue Danube. / 1,09 minute
JS Bach / Goldberg Variation #3 Andante. / 0,37 minute
Mozart / Eine Kleine Nachtmusik K525 4th mvt. / 1,01 minute
Mozart / Sonata 5 K589h 1st mvmt. / 1,13 minute
Mozart / Symphony#38 K504 Prague 2nd mvt. / 1,01 minute
S Joplin / The Entertainer. / 1,19 minute
Schubert / Valse Sentimentale#1 in D D 779 12. / 0,47 minute
Vivaldi / The Four Seasons Autumn 3rd mvt. / 0,42 minute
Vivaldi / The Four Seasons Spring 2nd mvt. / 2,37 minute
Vivaldi / The Four Seasons Winter 3rd mvt. / 1,02 minute

10 CD

Beethoven / Symphony#6 in F Op 68 1st mvt Allegro. / 1,03 minute
Beethoven / Symphony#8 Op93 1st mvt Allegro. / 0,40 minute
Beethoven / Symphony #1 in C 1st mvt Allegro. / 0,51 minute
Brahms / Symphony#3 in F Op 90 1st mvt Allegro./ 0,47 minute
Chopin / Mazurka in Am Op67 no4. / 0,49 minute
Chopin / Mazurka in G#m Op33 no1. / 0,54 minute
Chopin / Prelude in Bm Op28 No6. / 1,11 minute
Chopin / Waltz in Am Op34 No2. / 1,27 minute
Chopin / Waltz in Bb Op39 No8. / 1,47 minute
Fanny Blair. / 1,41 minute
Handel / Menuetto in F Watermusic. / 1,14 minute
J Strauss / Viennese Blood Waltz. / 1,44 minute
JS Bach / Goldberg Variations Aria. / 1,55 minute
JS Bach / Brandenburg Concerto #1 in F 1st mvt. / 1,55 minute
JS Bach / Brandenburg Concerto #1 in F 3rd mvt. / 1,05 minute
Mozart / Menuetto in Eb Sym #39 K543 3rd mvt. / 1,18 minute
Mozart / Sonata 3 K545. / 0,51 minute
Mozart / Sonata 4 K533 pno sonata 1st mvmt. / 1,34 minute
S Joplin / The Strenuous Life. / 1,28 minute
Vivaldi / The Four Seasons Autumn 1st mvt. / 1,08 minute



Feldolgozás alatt